Braden Montgomery is a well-rounded person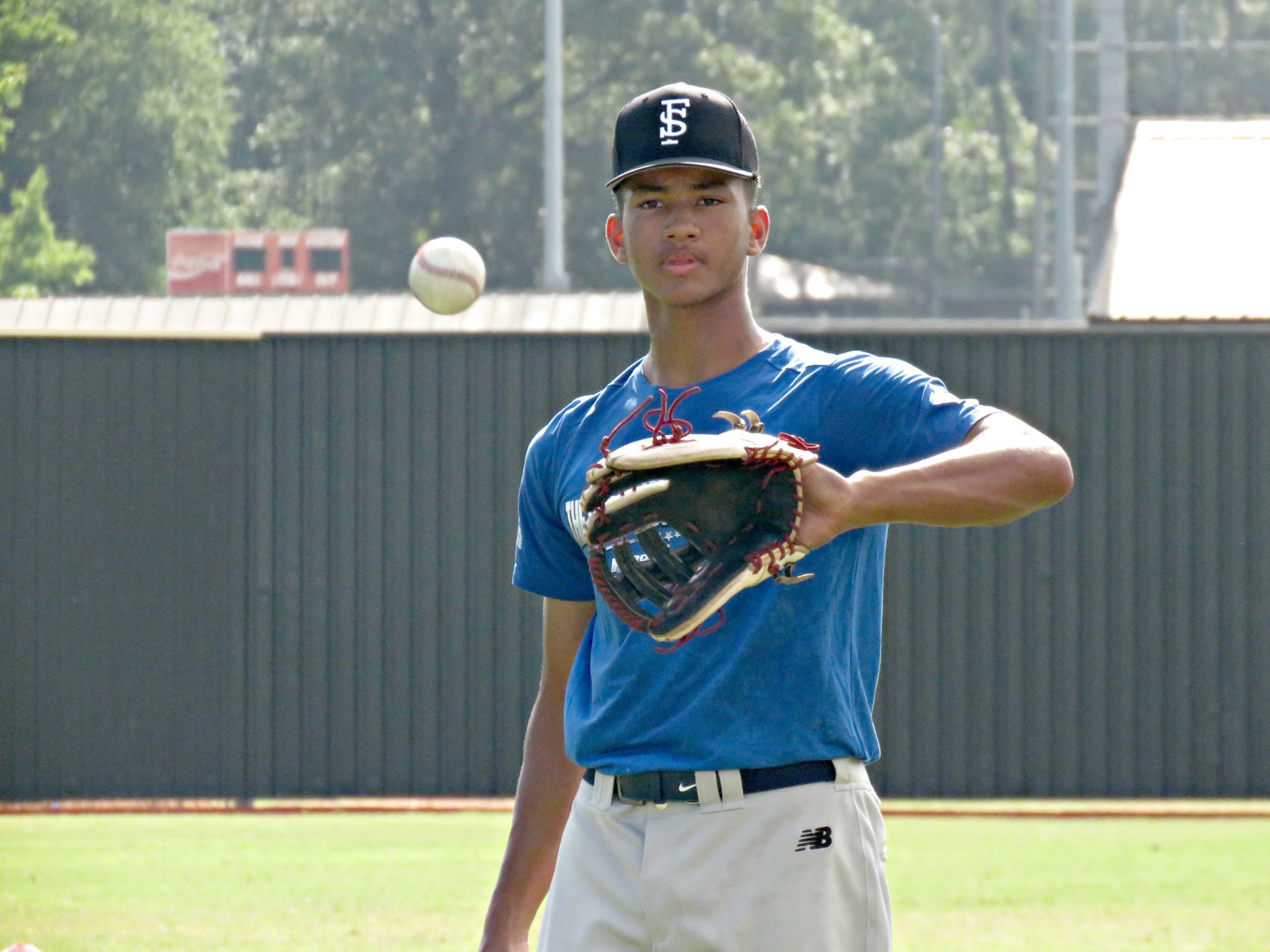 Braden Montgomery places a high importance on academics. The senior at Madison Central High School in Mississippi scored a 33 on the ACT his sophomore year. Montgomery recently took the ACT a second time and is waiting on his score. He hopes to improve his score or even get a 36 – the top possible score – on the standardized college admissions test.
Montgomery, a Stanford University commit, also is a high-level high school baseball player. He excelled as a two-way player on the summer showcase circuit to position himself as one of the top prospects in the 2021 prep class.
Professional scouts also project Montgomery as a potential first-round pick in July's MLB draft. He offers intriguing potential as an outfielder and right-handed pitcher, causing most scouts not to have a definite answer on his future long-term position.
"Obviously, it is overwhelming at times," Montgomery said. "I try to stay in the mindset of one day at a time. The draft is eight months away or however many. I am just living in the moment right now and preparing my training."
The 6-foot-2, 200-pound right-hander throws a four-seam fastball, curveball, and circle changeup. He throws from a clean and easy delivery. His best pitch is his low-90s fastball due to his above-average arm strength.
Montgomery has a really good feel for his curveball and spins its well. It serves as his outpitch. He spent a lot of time developing his changeup before his junior season. It flashes solid potential and is a pitch he plans on refining more in preparation for his senior year.
That arm strength that allows him to have a quality fastball also enables him to make strong and accurate throws from the outfield. Perfect Game clocked his throws from the outfield at 97 mph this summer. Overall, he's a strong defensive player.
Montgomery believes his arm strength is his best tool, he said.
"I think it started my summer going into my freshman year of high school," Montgomery said. "I hit long toss hard, doing it twice a week, and bands every time I would go out and throw. I really stuck to that. I saw a big jump in velo from the outfield. It was around a 13 mph gain over a year. I just stuck to that."
Offensively, Montgomery is a switch-hitter who has a simple setup and gap-to-gap approach. He consistently barrels up pitches and displays power potential from both sides of the plate.
Montgomery is a natural right-handed hitter and started hitting left-handed when he was 10 years old. Montgomery typically works more on hitting right-handed in individual work since he doesn't hit as frequently in games on that side, he said.
"I started wanting to switch-hit when I was 10," Montgomery said. "My first time in the game was 11. I am not really sure why it started. I guess I just said I want to hit on my left side. It really just depends on the day. Some days my right side feels a lot better, and some days my left side feels better. I would just say it depends on the day."
This offseason, Montgomery wants to dedicate time to refining his skills on the mound. He hopes to increase his fastball velocity while refining his off-speed pitches.
He also wants to add strength to his frame and believes that will impact him positively on the mound and at the plate, he said.
"I really want to make sure that I don't leave the pitching aspect of my game behind," Montgomery said. "I am definitely going to work on honing that. I just want to stay on course with developing power in my swing and advancing my hit tool even further."
Montgomery verbally committed to Stanford his junior year. He also considered and visited Missouri, Arkansas, and Vanderbilt during the recruiting process.
Stanford's academic prestige, location, and the baseball program's coaching staff stood out to him. Montgomery believes the decision was a "no brainer," he said.
It'll be interesting to see what direction Montgomery heads after high school, as he likely will have to decide between starting a pro career or attending Stanford.
Montgomery is trying not to worry about that decision, though. Instead, he hopes to have a strong senior year in the classroom and on the baseball field.
"Outside of baseball things, I hope to continue academically to stay in the range I am known for," Montgomery said. "Inside of baseball, I want to help lead my team to a state championship however I can."
Read more in-depth stories on top 2021 MLB draft prospects here.
Dan Zielinski III has covered the MLB draft for six years. He's interviewed 253 of the top draft prospects in that period, including three No. 1 overall picks. Multiple publications, including Baseball America, USA Today, MLB.com and The Arizona Republic, have quoted his work, while he's appeared on radio stations as a "MLB draft expert." Follow him on Twitter @DanZielinski3.