2022 MLB Draft: Mock Draft 1.0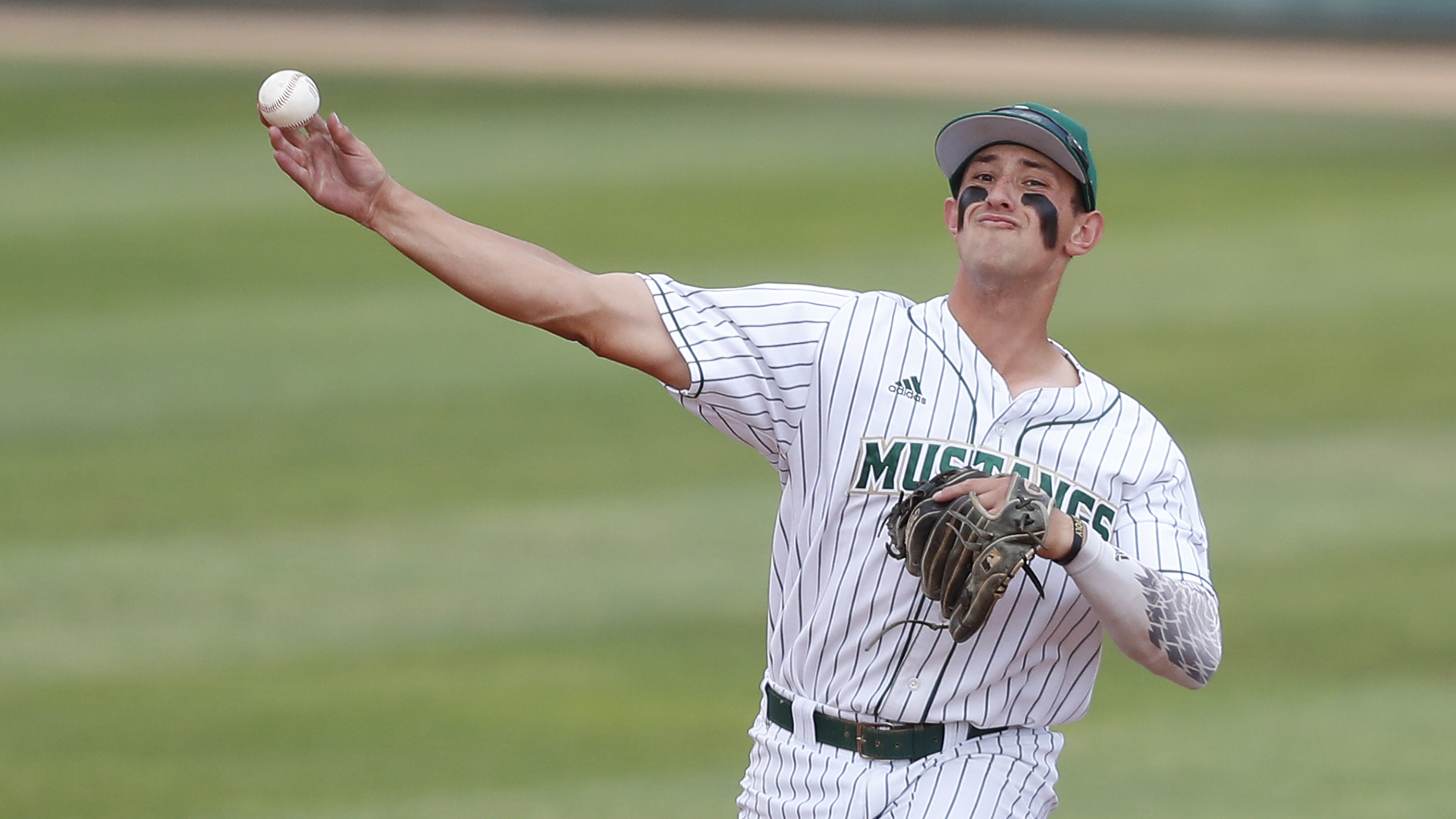 Cal Poly Athletics
The 2022 MLB draft is about eight months away. But it is never too early to look at the top prospects available in the draft, especially with the conclusion of the MLB regular season today.
Below is a first-round mock draft based on the team records and current CBA rules. Remember, the New York Mets receive the 11th overall pick after failing to sign Vanderbilt right-handed pitcher Kumar Rocker with the 10th overall pick in the 2021 draft.
1. Baltimore Orioles: Brooks Lee, SS, Cal Poly
Lee is a 6-foot-2, 205-pound switch-hitting shortstop who is a well-rounded player. His best traits are on the offensive side, as he is an aggressive hitter who loves to swing at the first pitch. He has respectable power, possesses an above-average hit tool and drives the ball to all fields.
Read more about Lee and his skills here.
2. Arizona Diamondbacks: Jace Jung, 2B/3B, Texas Tech
Jung is a tremendous hitter who uses a slightly unusual setup from the left side of the plate. He hits for average and power and had a breakout 2021 campaign. Defensively, scouts are split on Jung's future defensive position. He is a bat-first player who profiles at second or third base long-term.
3. Texas Rangers: Elijah Green, OF, IMG Academy (Fla.)
Green is an elite prep prospect who has an exciting toolset. There aren't many holes in Green's game. The 6-foot-3, 225-pound outfielder has elite speed and exceptional arm strength. He is a refined prep talent who might be the best draft-eligible prep player in the last five years.
4. Pittsburgh Pirates: Termarr Johnson, 2B, Mays (Ga.) HS
Johnson, a 5-foot-10, 175-pound infielder, has quick hands at the plate and consistently barrels up pitches from the left side of the plate. He profiles as a top-of-the-order hitter with an ability to hit for some power in the pro ranks. Scouts believe he has the talent to play shortstop, second base and center field at the next level.
5. Washington Nationals Miami Marlins: Kevin Parada, C, Georgia Tech
The 6-foot, 192-pound catcher is a right-handed hitter who consistently barrels up pitches. He is a complete player who has the athleticism and above-average arm strength to stick behind the plate. He also has a solid track record against the high-end competition.
6. Miami Marlins: Dylan Lesko, RHP, Buford (Ga.) HS
Right now, Lesko is the best prep arm in the 2022 MLB draft class. He is 6-foot-3, 195 pounds who throws a mid-90s fastball from an athletic and repeatable delivery. The righty has consistently performed well on the showcase circuit and has all the tools to be a high-end starter in pro ball.
7. Chicago Cubs: Andruw Jones, OF, Wesleyan (Ga.) HS
Jones is the son of former MLB outfielder Andruw Jones. He is a quality defensive outfielder who has above-average speed and plenty of potential remaining in his game. The right-handed hitter consistently barrels up pitches and has displayed an improved power potential over the last year.
8. Minnesota Twins: Carter Young, SS, Vanderbilt
Young is an advanced defensive player with arm strength and the athleticism, footwork, and hands to make all the necessary plays. The switch hitter displayed an ability to drive the ball with power this season. But, he needs to refine his approach and plate discipline.
9. Kansas City Royals: Chase DeLauter, OF, James Madison
DeLauter, a left-handed hitter, has thrived at the plate during his college career. He is a quality hitter who hits for power. He has experience playing all three outfield positions and deserves a shot to play center field in pro ball.
10. Colorado Rockies: Jacob Berry, 3B, LSU
Berry had a tremendous freshman season at Arizona last spring. He transferred to LSU in the offseason, following coach Jay Johnson. Berry hits for average and above-average power to all parts of the field. Defensively, some scouts believe he is a better fit at first base.
Read the rest of Mock Draft 1.0 – picks 11-31 – by subscribing to the Baseball Prospect Journal on Patreon HERE.
Dan Zielinski III has covered the MLB draft for seven years. He has interviewed 356 of the top draft prospects in that period, including four No. 1 overall picks. Multiple publications, including Baseball America, USA Today, MLB.com and The Arizona Republic, have quoted his work, while he has appeared on radio stations as a "MLB draft expert." Follow him on Twitter @DanZielinski3.